Shayari is the term that means Urdu poetry. Here we have added wonderful birthday shayari wishes and images in Hindi language. If you find these shayari cool, please share to your social networks. Thanks in advance!!
Hindi Birthday Shayari For Friends & GirlFriend
Ye Din…Ye Mahina…Ye Tareekh…Jab-Jab Aayi,
Humne Kitne Pyaar Se Janm Din Ki Mahfil Sajaayi,
Har Shama Par Nam Likh Diya Dosti Ka,
Is Ki Roshani Me Chand Jaisi Aapki Surat Samai…
Happy Birthday To You Dear!!
खुदा कैसे करूँ शुक्रिया इस दिन के लिए
जिस दिन तुम्हे धरती पर भेजा हमारे लिए
ना जाने क्यों मैं इंतज़ार कर रहा था
शायद जन्मदिन है तुम्हारा इस लिए
मेरी हर एक दुआ है तेरी लंबी उमर के लिए
दिल खुद जानता है तू ना हो तो धड़केगा किस के लिए
Dost Tu Hai Mera Sabse Nyara,Tujhe Mubarak Ho Tera Janamdin Yaara..
Kabhi Najar Na Lage Tujhe,Kabhi Udaas Na Ho Pyaara Chehra Tera..
Janam Din Mubarak Ho Mere Dost!!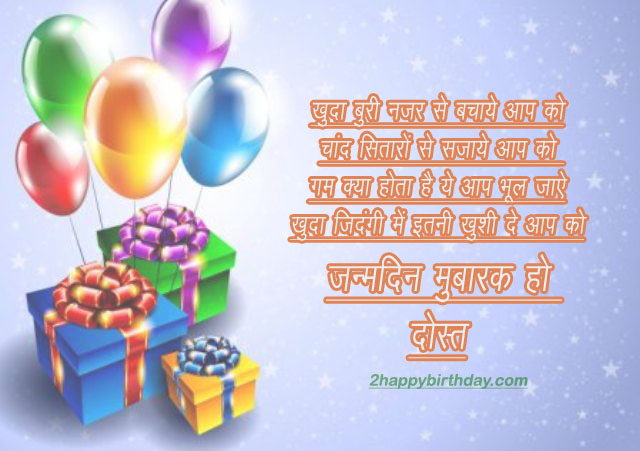 हम आपके जन्मदिन पर देते हैं यह दुआ,
हम और तुम मिलकर, होंगे कभी ना जुदा,
जीवन भर साथ देंगे अपना है ये वादा,
तुझ पर अपनी जान भी देंगे, अपना है ये इरादा!!
`
Duaa Mile Badon Se Khushiyaan Mile Sab Se… Sath Mile Apno Se Rehmat Mile Rab Se….Zindagi Me Aapko Bhi Pyar Mile….Kush Rehain Aap Duniya Mein Ziada Sab Se. Janamdin Mubarak Ho Yaar!!
एक दुआ माँगते है हम अपने भगवान से,
चाहते है आपकी खुशी पूरे ईमान से,
सब हसरतें पूरी हो आपकी
और आप मुस्कुराएँ दिलो जान से.
अगर याद तुमको ना रहे अपना जन्मदिन ,
चेक करते रहना यूँ ही अपने मोबाइल को हर दिन ,
मैं कभी ना भूलूंगा अपने यार का जन्मदिन ,
चाहे वो हो मेरा आख़िरी दिन, आपको ज़रूर मेरा यह मैसेज,
मिलेगा, जिसपे लिखा होगा मुबारक हो आपको आपका जन्मदिन !!
Muskaan Aapke Hontho Se Kahin Jaye Nahi, Aansu Aapie Palkon Pe Kabhi Aaye Nahi,
Pura Ho Aapka Har Khwaab, Aur Jo Pura Na Ho Wo Khwab Kabhi Aaye Nahi. Happy Birthday!!
इस जन्मदिन पर मेरी दुआ है fक खुश रहो तुम, मिले ना कोई गम जहाँ भी रहो तुम,
समंदर की तरह दिल हैं गहरा तेरा,खुशियों सा भरा रहे दामन तेरा,
तुम जो कहो वो खवाइश  पूरी हो तुम्हारी,खुदा से बस यही दुआ है हमारी
तोहफा क्या  तुम्हे दुवाओं के सिवाय, कि खुदा रहे तुम से राज़ी सदा !!
Mai Likh Dun Tumhari Umar Chand Sitaro Se, Janamdin Manaun Main Phoolon Se, Baharon Se Har Ek Khubsurti Duniya Se Main Lekar Aaun, Mehfil Ye Sajaaun Main Har Haseen Najaro Se.. Happy Birthday To You, My Sweetheart!!
आज का ख़ास दिन मुबारक हो आप को,
प्यारे प्यारे ख्वाब मुबारक हो आप को,
जिंदगी के साथ जो आई है खुशियाँ खूब सारी
वो खुशियाँ मुबारक हो आप को.
Pyaar se bhari Zindgi mile aapko,Khusiyon se bhare pal mile aapko,
Kabhi kisi gam ka samna na karna pade, Aisa aane wala kal mile aapko. Happy Birthday dear!!