It was your aunt who was there for you when your mom wasn't. She is not only a guardian to us but also the best friend. Convey your feeling on her birthday! Here we have added sweet birthday wishes for aunt, take a look over these wishes below:-
Birthday Wishes for My Aunt
Happy Birthday to my Aunt! Aunt, I want to thank you for making me feel special and loved and motivating me when I felt dejected. You are wonderful women and best friend of mine. Lots of love and warm hugs for your birthday!!
To my aunt, may your birthday be as stunning as you are! You are a very kind soul, intelligent women I have ever met. I wish all your wishes come true. Happy Birthday, auntie!
Happy Birthday, Aunt! You are such an amazing lady who always makes me feel awesome with your presence. Thanks for understanding my feelings and emotions and helping me all the time. Love you!
My aunt, I will never forget the best moments that you have given me throughout my life.  I love the aura when you are with me. I wish your birthday to be beautiful and lovely as you are.
Dear aunt, our family wouldn't be so happier without you. You are the only reason why we are enjoying the moments with our family. Happy Birthday to you!!
Aunt is equal to Mom minus nagging. East or west, my aunt is the best. Happy Birthday to my second mom!
Thank you aunt, for the kindness, love, friendship, happy memories and great lessons you have given me. I wish myself to be as you when I grow up.! Have a nice birthday, Auntie!!
Happy Birthday, Auntie!! You are an amazing sister to my mom, superb sister-in-law to my dad, loving wife to your husband and a wonderful aunt to me. I find nothing in life which you are not good at?? God bless..
A birthday comes only once in a year, but our bond is very exceptional and beautiful. Dear Aunt, I wish your birthday to be the best of all the celebrations we have enjoyed. Have a good day ahead!!
Here goes my best wish to the coolest and dearest aunt, There was not a single day when I didn't think of the time we have spent together in the past. Those memories make me feel blessed and motivated to be like you. Happy Birthday to you, Auntie!!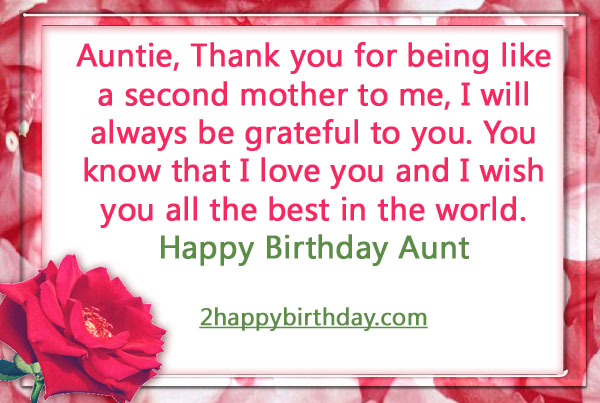 Sending the best wishes to the best person who is not only an aunt but also a good friend of mine. Wishing you a magnificent birthday!! May your dreams come true!
My life has been blessed with many amazing women. You are one of them, my aunt. You have shown me the true way to live your life. I'll be thankful to you and  just love the way you are. Many returns of your birthday!!
My life is brightened by the presence of a wonderful lady who has encouraged me to do the best things, praised me whenever I do small things. Thank you aunt for being kindhearted and amicable. Today, It's your special day, enjoy this day to the fullest and I wish you to shine everywhere you go. Best day!
Dear aunt, it was you when mom wasn't there for me. I'll never forget how you helped me when I needed you. Happy Birthday to a great lady!!
More Birthday Wishes :
Happy Birthday Wishes For Grandma
Happy Birthday Wishes For GrandPa
Happy Birthday Wishes For Goddaughter
Happy Birthday Wishes For Uncle
Happy Birthday Wishes For Wife
Happy Birthday Wishes For Daughter
Happy Birthday Wishes For Cousin
Happy Birthday Wishes For Nephew
Happy BirthdayWishes For Niece
Happy Birthday Wishes For Godson
Happy Birthday Wishes For  Sister
Your arms are the place where I find love, care, and calmness. I want to express my gratitude for filling my life with joyous and funny moments. I wish you all the best in your life!!
My most sincere wishes for your birthday, it can be as special as you are, my aunt! Happy Birthday to the best aunt ever!!