It's your daughter in law birthday today. Take this day to make your daughter in law feel how special she is to you and your family.
Here we have compiled some of the best birthday wishes for your daughter in law. With all these emotional birthday wishes and quotes you'll find certainly a way to express your feeling to her.
 Birthday Wishes For Daughter In Law
On This Extraordinary Day, We Offer Best Wishes To The Love Of Our Son. We Are Always There To Support You And Love You More Than Anything. Happy Birthday Our Daughter In Law!!
Sometimes Fortune Behaves Very Well With People. Thus, Our Son Was Blessed To Find You. Let Your Love & Kindness Remain Evergreen. We Wish You All The Best For Your Birthday & Future.
Thanks Daughter In Law For The Happiness And Enthusiasm That You Have Added To The Life Our Son. Many Happy Returns On Your Birthday!!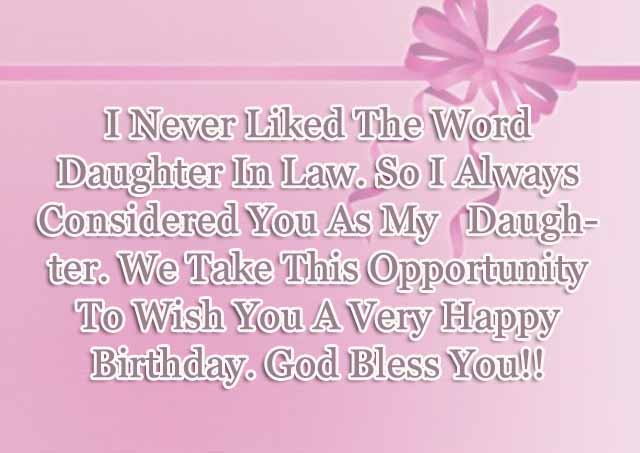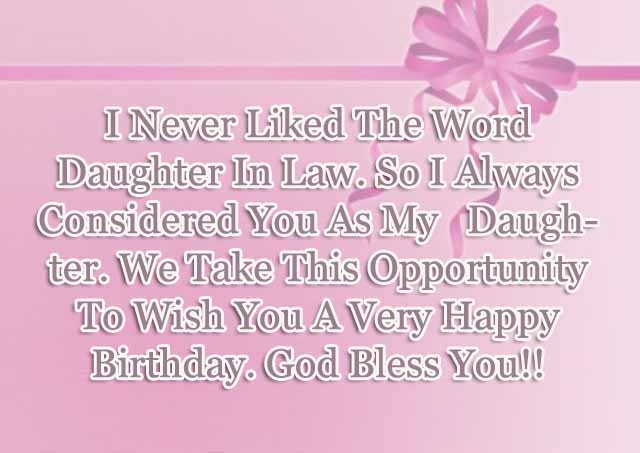 You Will Always Be My Daughter. We Are Always At Your Side In Good And Bad Times! Best Birthday Wishes To The Most Beautiful Daughter In Law In The World!!
Other Birthday Wishes
Happy Birthday Wishes For Wife
Happy Birthday Wishes For Daughter
Happy Birthday Wishes For  Sister
Happy Birthday Wishes For Cousin
Happy Birthday Wishes For Nephew
Happy BirthdayWishes For Niece
Happy Birthday Wishes For Godson
Happy Birthday Wishes For Goddaughter
You Have Contributed To Our Family With That Little Peace We Were Missing. Thanks For All The Things You Have Done For Happiness Of The Family. Happy Birthday Daughter In Law!!
Dear Daughter In Law, You Have Become Our Second Daughter From Over The Years. You Have Won Our Hearts With Your Love And Care For The Family. Happy Birthday To You!!
I Never Liked The Word Daughter In Law. So I Always Considered You As My Daughter. We Take This Opportunity To Wish You A Very Happy Birthday. God Bless You!!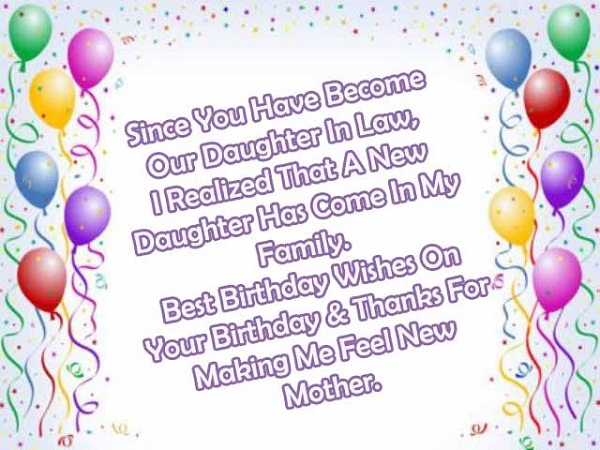 We Can't Forget The Beautiful Day When You Were Married To Our Son And Have Blessed Our Family By Bringing Love, Happiness And Peace In Our Family.  We Wish You A Special Birthday, Daughter In Law!!!