Are you looking for birthday quotes and wishes to send your blessings to your lovely niece. You are at the right place. Being an uncle or aunt, Niece is the word that attaches us closely.
2HappyBirthday has come up with some motivate birthday quotes for your niece which help not only saying you kind words but also full of inspiration.
Happy Birthday Wishes to My Niece
Have a look to some inspirational birthday quotes to wish your niece.
I am so blessed to be your Aunt/Uncle.This day is special to you so is to me. Happy birthday lovely niece!! Have a blessed life ahead.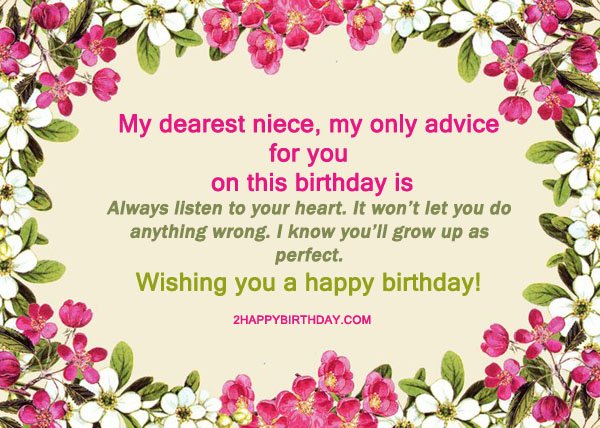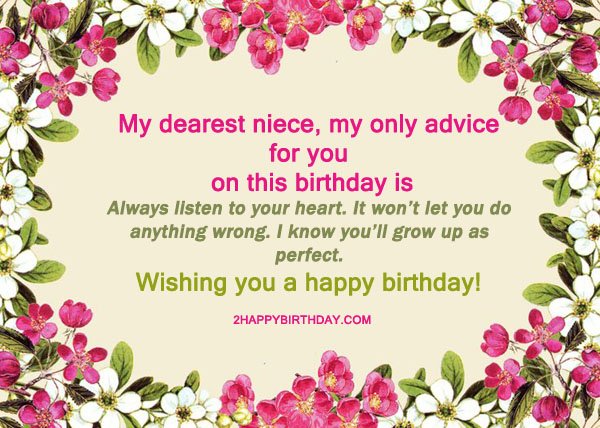 Happy birthday my niece!! I have the pleasure of having daughters, but the God has blessed me with a lovely niece like you. Wishing you wisdom, happiness & success on your special day!!
The Time has passed very fast & I still memorize the days when you were a little cute baby, now you have become an elegant and independent women. But you are still a beautiful kid to me. Happy birthday to you my niece!!
Life is good for us since you were born & we blessed with a pretty niece; I hope your birthday brings so much happiness & love to you for today and many more years. Best birthday wishes to our niece: – Your uncle & Aunt
Happy birthday to the most intelligent, beautiful and cool niece!!  Thanks for giving me advice about the all things. Kisses & Hugs from your aunt!!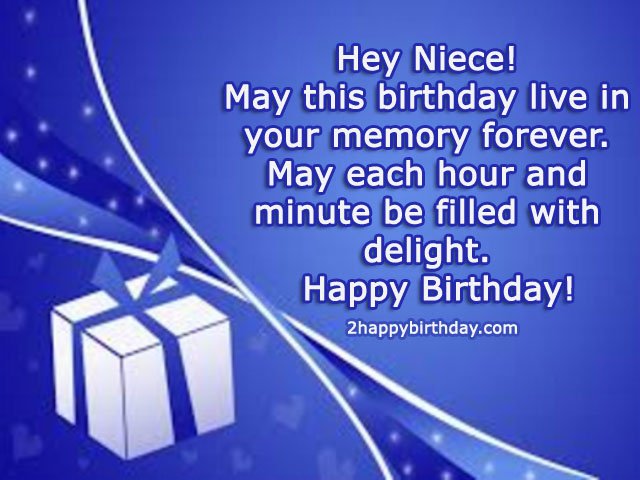 One thing, I want to tell you on your birthday, Not only watch the dreams but also work for it.You will surely achieve the place Where you want to be!! Tons of wishes on your birthday my niece!
My niece, nobody looks as superb as we do when we're together. You are the gem of our family. May your beautifulness remain forever!! Many happy returns of the day to a lovely niece!!
You are the niece who is wanted by the all uncles & aunts of this world. I wish God bless everyone with such a cool niece!! Thanks for the memories that we have shared. Happy birthday to my niece!
Dear niece, May you get all what you want!! I know you are hard working, motivating & blessed with positive thinking!! I can see your bright future! I hope all your dreams come true… Have a wonderful day!!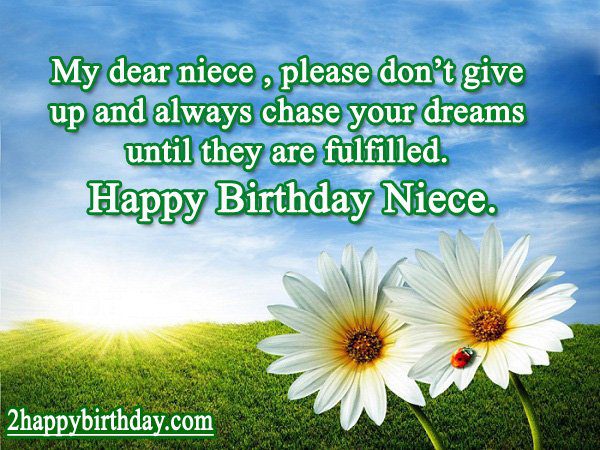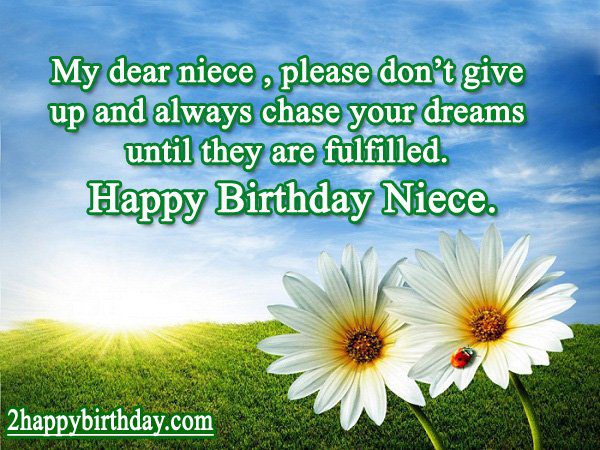 To my pretty Niece,
I'm so grateful to have you in my life.
You are the one who makes my life more beautiful.
Happy Birthday my dear niece!! May God bless you!
When your mother expecting a charming daughter
I was praying of a pretty niece.
Thank you God for keeping our faith!!!
Thank you giving us a lovely niece
Happy birthday Lots of Love!
I don't care what is the definition of the word "niece" ?
But you are more than my daughter
Happy birthday to you!!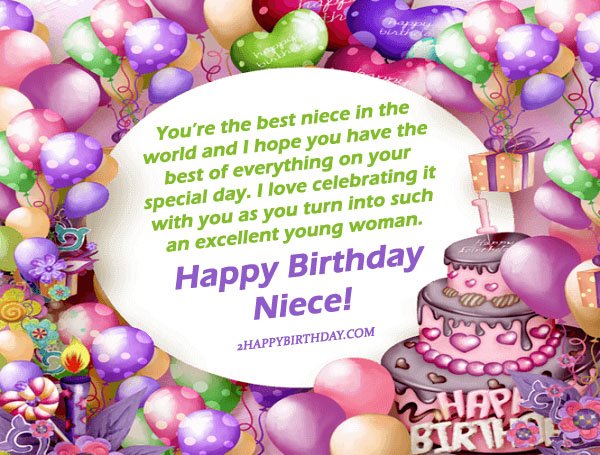 Happy Birthday Wishes for Sister
Happy Birthday Wishes for Wife
Happy Birthday Wishes For Uncle
Happy Birthday Wishes For Aunt
Happy Birthday Wishes For Wife
Happy Birthday Wishes For Godson
Happy Birthday Wishes For Goddaughter
Happy Birthday Wishes for Grandma
Happy Birthday Wishes for Cousin
Happy Birthday Wishes For Twins
Happy Birthday Wishes For Pastor
Happy Birthday Wishes For Boss
Happy Birthday Wishes For Teacher
Happy birthday to the most loving and spirited Niece in the whole world. May God bless you!  Enjoy your special day to the Fullest. Lots of Love!!
The relationship between an uncle & his niece is similar to the relation between a father & his daughter. You're more than daughter to me. Best wishes to the most beautiful niece in this world!!
We rejoice the birthday a young lady who is a fantastic niece & my favorite buddy. May your wishes & desires come true!! Celebrate this day with all of the fun & happiness you deserve! Lots of love & hugs!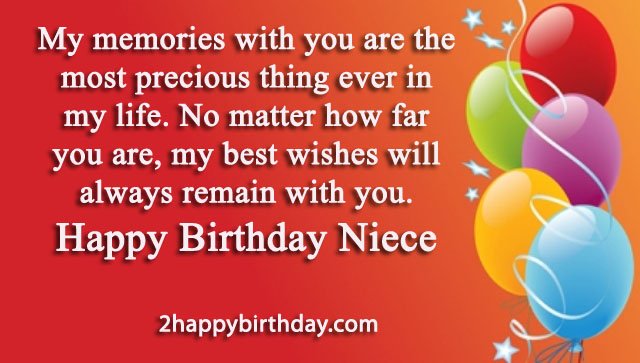 My beautiful Niece, I find myself very happy to be your aunt & I feel very proud of it, for having such a polite & amicable friend.  Have an awesome birthday!! God bless you!
Today, you are a year older now, but for me, you will always be my little niece who makes me happy without any reason. I wish our bond continues to grow stronger & keep us always together as the years pass.  I love you my niece. Happy Birthday to you!!
Wishing a superb birthday to my beloved niece!! A birthday girl as lovable as you should party without any end. Let us celebrate your special day with love & sweet memories! Love you!
I still remember the moment you had grabbed my fingers first time.
Those memories put smile on my face even today.
Stay Bless my Niece, enjoy your birthday !!
–Your Uncle/Aunt
All you have to do is to copy the message you want, and send it to your niece via text, WhatsApp, or Facebook messages. Please do share this post and put your valuable comments in the comment box below. We would love to hear you. Thanks for stopping by!!!