Last Updated on October 17, 2016
Now, wish your Greek friends in their native language!! Here are some commonly used Greek greeting words and happy birthday messages.
Let find out basic Greek phrases that are suitable for birthday wishes–
How to Wish Happy Birthday in Greek
Χρόνια πολλά is the phrase used in Greece to say Happy Birthday.
Happy Birthday! – Χρόνια πολλά!  (Pronunciation: chronia polla)
Here are the other Greek greetings phrases that can be efficient to wish birthday:
Congrats!- Συγχαρητήρια!
Many-many returns of the day!- να τα εκατοστήσεις και ότι επιθυμείς!
Good luck –καλή τύχη
Wishing you happiness and love on your special day–
Σου εύχομαι ότι καλύτερο αυτή την μέρα των γενεθλίων σου.
May all your wishes come true!!
Σου εύχομαι όλες οι επιθυμίες σου να γίνουν πραγματικότητα!!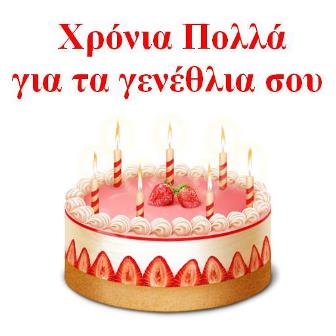 Image Credit: All About Android
Happy Birthday in Greek Video
Happy Birthday Messages & Quotes in Greek
Με την ευκαιρία αυτή, σας εύχομαι μια υγιή και ευημερούσα ζωή μπροστά. Χρόνια Πολλά !
(Pronunciation: Me tin efkairía aftí, sas éfchomai mia ygií kai evimeroúsa zoí brostá. Chrónia Pollá !)
(On this occasion, I wish you a healthy and prosperous life ahead. Happy Birthday!)
Ελπίζω ειδική ημέρα σας θα σας φέρει τα μέρη της ευτυχίας, αγάπης και διασκέδαση. Τους αξίζουν πολλά. Απολαύστε το!
(Pronunciation: Elpízo eidikí iméra sas tha mas férei ta méri tis eftychías, agápis kai diaskédasi. Tous axízoun pollá. Apoláfste to!)
(I hope your special day will bring you lots of happiness, love and fun. You deserve a lot. Enjoy!)
Find out how to say Happy birthday in other languages!!
Είστε ένας αληθινός φίλος, γι 'αυτό παρακαλώ να μην αλλάξει ποτέ! Χρόνια πολλά, μπορεί και κάθε επιθυμία που έχετε έρθει αληθινός!!
(Pronunciation: Eíste énas alithinós fílos, gi 'aftó parakaló na min alláxei poté! Chrónia pollá, boreí kai káthe epithymía pou échete érthei alithinós!!)
(You are a true friend, so please do not ever change! Happy birthday, you and all that you wish may come true!!)
I hope "all Greek to me" phrase is no longer applied to you. Send these Greek wishes to your friend to wish them happy birthday!!