We have compiled birthday wishes in almost every popular language. This time, we are going to post birthday greetings in the Korean language. There are about 80 million people who speak Korean all over the world predominantly in North and South Korea.
If you have some Korean friends on your Facebook and Twitter, wish them a happy birthday in their native language.
How to Say Happy Birthday In Korean?
Credit: Korea Fever
• 생일 축하 해요 (saeng-il chugha haeyo, Hagul language) is the phrase that is used to say happy birthday in Korea. Here we have written some basic greetings in Korean that you can say while wishing Happy Birthday.
• 행복한 생일날 되세요!! – Have a Happy Birthday!
• 멋진 생일 보내세요! – Have an amazing birthday!
• 모든 소원이 이루어지길 바랍니다! – May your all wishes come true!
                 Source: letstteok-korean.tumblr.com
Korean Birthday Messages & Quotes
생일 축하 해요!! 하나님은 행복과 번영에 당신을 축복하시기를기도합니다! 너의 하루를 즐겨!
Pronunciation: saengil chugha haeyo!! hananim-eun haengboggwa beonyeonge dangsin-eul chugboghasigileulgidohabnida! neoui haluleul jeulgyeo!
English Translation-Happy Birthday!! I pray to God to bless you with happiness and prosperity! Enjoy your day!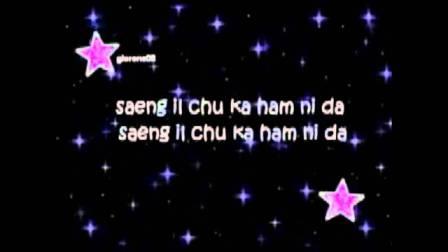 생일 축하해, 친구. 당신의 미래에 대한 모든 최고의. 당신은 당신이 원하는 모든 것을 얻을 수 있습니다!
Pronunciation: saengil chughahae, chingu. dangsinui milaee daehan modeun choegoui. dangsineun dangsini wonhaneun modeun geoseul eodeul su issseubnida!
English Translation: Happy birthday, my friend. All the best for your future. You can get everything you want!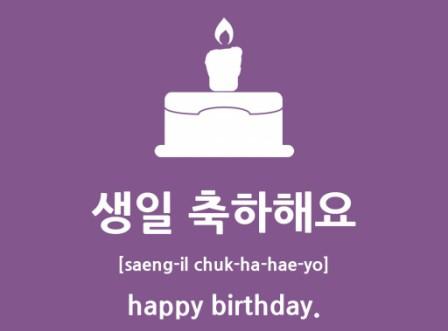 Source: kimchicloud.com 
나는 앞으로 당신에게 건강하고 풍요로운 삶을 기원합니다. 생일 친구!
Pronunciation: naneun apeulo dangsinege geonganghago pungyoloun salmeul giwonhabnida. saengil chingu!
English Translation: I wish you a healthy and prosperous life in the future. Happy Birthday, friend!
Also Read: Birthday Wishes in Other Languages