Last Updated on October 30, 2019
Celebrating 50th birthday is a special achievement itself. Are you looking for the birthday messages & wishes for a person who has seen almost fifty springs in his/her life and explored most of the things in life?
Here we have added the best 50th birthday wishes and SMS. You can send these birthday wishes to your mom, dad, grandpa, grandma, friends and anyone who is turning 50. Want to wish in funny ways, visit 50th birthday memes.
Happy 50th Birthday Quotes & Greeting
Today is an extraordinary day in your life. You are turning 50. May your 50th birthday be as amazing as you are! You've lived your life with happiness and dignity. May God bless you with all the happiness & beautiful moments!
Write the name on the 50th birthday cake
It's a fantastic day today in our family because a brilliant person is about to complete the half-century of life. Happy 50th birthday brother! We wish you a stunning birthday and blessed life ahead!
On this golden day of your life, it's time to recall your memoirs. Look at your past for a moment, everything that has happened has transformed you into the amazing person, made you stronger than before. You have got all the wonderful things in life. Now at the present, Just feel this unique moment that will not come again. Enjoy it intensely.  Wishing you the best 50th birthday!!
I wish you a 50th birthday & also sending more love and hugs on this occasion. You are the best friend that I have ever had in my life.
You are a fantastic fifty years now. You must be honoured for your past successes & wished wonderful things for an even more exceptional future!  The best way to celebrate this day is to forget your age & enjoy as much as you can.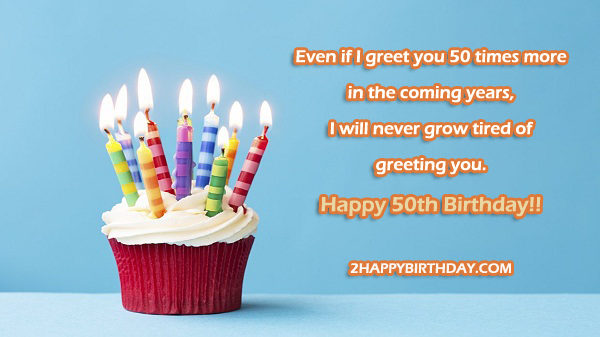 Today, you have reached 50. It's a great moment to celebrate.  You have been through ups and downs in your life but you always remained calm and cool & have taken the things as it comes. You're the best inspiration for me. Happy 50th Birthday!
We have gone through a lot together; our friendship is almost as long as our years of life. I have always valued you. It's only you who have made my life better in many ways. 50 years are not the thing that meets every day. Dear, I congratulate you immensely for reaching this respectable age. Happy 50th birthday to you!!
Your fiftieth birthday is here! Congratulations! Thank you for all the moments that we have cheered together. Today I promise to be with you to explore the most beautiful journeys of life. Happy 50th birthday!
I have always seen you loaded with energy and inspiration. You have shown the world that being 50 is the same as being 25 years old. Wishing you an awesome 50th birthday as you have made my life awesome.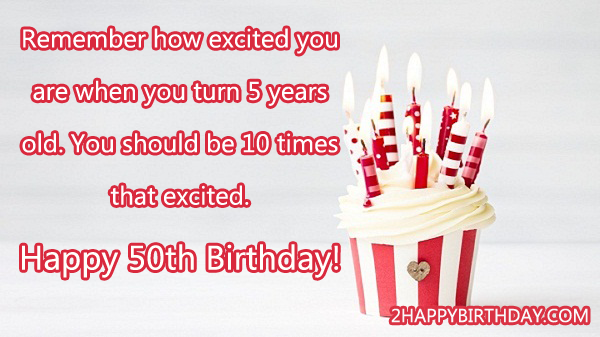 To a special person in my life, I wish you 50th birthday. You have taught me the best ways to live your life. You are the person who let me know to value our manners, to be a loved one. I wish your fiftieth day is filled with all of the superb things you love to do. Best wishes!!
It's your 50th birthday; it's not an occasion to be worried. It's time to rejoice! Stop worrying about grey hair, wrinkles, and your age. Do you know how many people reach the age of 50? You are, luckily, one of them. So, thank you for your long life & pray for what will come in the future. I am pretty sure, it'll be brilliant.
50th Birthday Wishes for Mother
Best wishes of 50th birthday to my beautiful mom. My dear mother, your knowledge, advice, and love have guided me throughout my entire life. I wish you an amazing birthday!
Mom, thanks for telling me the worth of friendship, kindness, patience & love. You have made my life incredible. I wish your 50th birthday be full of surprises.
It's the 50th birthday of the person whom I always look up to. I have always faith in God because he has given me an amazing Mom like you. Congratulation Mom on turning 50!
Mom, it's your fiftieth birthday, I haven't enough words for these magnificent moments. Through thick and thin, you have always with me. Now it's my turn to care you & be with you all the time. I will always be there for you. I love you, Mom.
MOM, you have brightened my life by giving me all the love. May your 50th birthday be the brightest one! Happy Birthday to the best Mom ever!
50th Birthday Wishes for Dad
There is nothing that can be compared to the love a Dad has for his child. Dad, you helped me to walk when I could barely take my first step. Thank you, dad, for all the things! Best wishes on your 50th birthday!
It's the 50th birthday of my father. Dad, you are my inspiration. I'm so proud of your son/Daughter. The colours of my life wouldn't be that much exciting if you had not been there. Happy 50th birthday to the greatest Dad!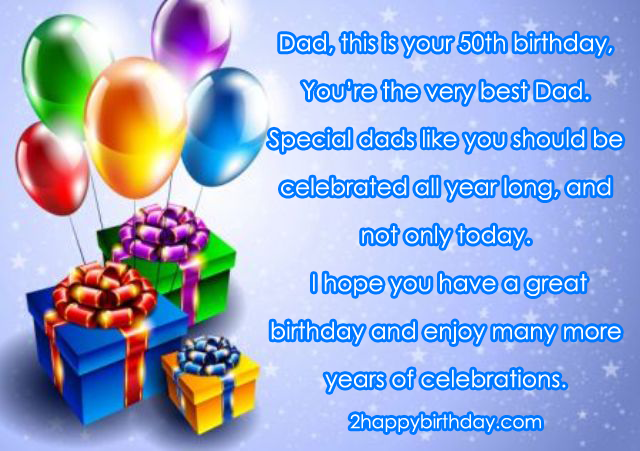 On completing the half-century of your life, I wish you a long  & healthy life ahead. Happy 50th Birthday, Dad!! Thanks for being part of my life & making it better.
The birthdays of best dads like you should be celebrated all year long. Dad, I would like to congratulate you on your 50th birthday.  I hope you have a great birthday & wish you to rejoice many more years of celebrations.
Funny 50th Birthday Wishes
By the time we turn 50, we have learned the hardest lessons. We have discovered that only a few things are really important. We have learned to take our lives seriously, but never ourselves – (Maria Dressler On 50th birthday)
Many happy returns of your 50th birthday!  You have survived half a century in your life. May God give you the strength and guts to make the full century!
The reason why we are gathered here is not to celebrate your 50th birthday, but the 30th anniversary of your 20th birthday.
Thank God for not having to blow 50 candles on my 50th birthday! It would have taken me an hour.
Thanks for using the database of 2happybirthday.com. Let us know your thoughts about these 50th birthday wishes in comments. Good day ahead!