Last Updated on October 30, 2019
Mother is the person behind our every achievement and success. Our vocabulary falls short when we try to unveil feelings about our mom.  Here, at 2HappyBirthday, we have compiled some of the golden words that are best to wish birthday to mothers.
Have a look at funny birthday memes for mom.
Find out awesome birthday wishes for mothers, the lovely person in the world–
Happy Birthday Mom Quotes & Messages
1) I haven't forgotten the moments of my childhood.  The moments were so precious and make me longing for those happy days. Thank you, mother, for everything you have done to make my life happier and better.
2) Happy birthday to my mother who sacrificed all things for her kids. I love you, mom! You are the best mom on the earth.
3) You are the only reason for my success. Your words have always encouraged me to do what I want to achieve. Have a grand celebration today. Happy birthday, Mom !
4)Happy Birthday, Mom! Thanks for the positive effects you have had on my life. You are the best mom ever. Love you, Mommy!
5) Happy birthday to a gorgeous, kind, thoughtful and great Mother! May God give her the happiest moments! I wish you good health, never-ending happiness and joyful moments. Good day to you!
6) Through thick and thin, you have supported me to do good things in my life. Mom, it's your special day, I want to thank your unconditional and undivided love. I will always be there for you. I love you. Best birthday wishes to my mother!
7) Mom, I consider myself very fortunate to have you around.  You made me learn about true meaning of life. You are the best person in my life. I wish a wonderful birthday to a wonderful mom! Have a good day ahead!
8) Many happy returns of the day to my mom!  Mom, your eyes lit up my world, your love lightens up my path, your smile brightened my sky and your presence cherished my life. I wish you a jovial birthday filled with fun and amazing things that you love to do!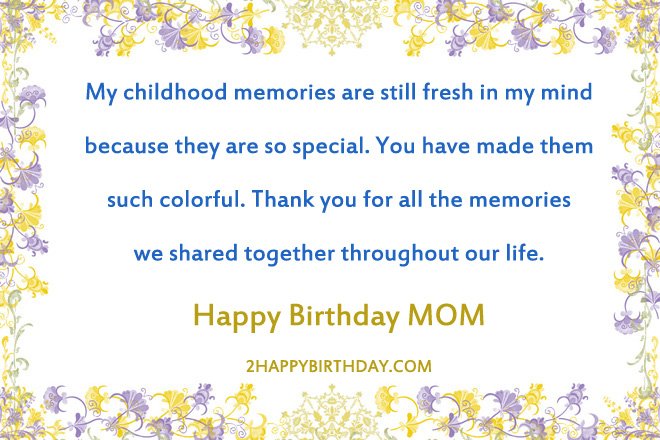 9) My love has no limits for you, my mother and my respect for you will be immense always. You are my best and sweetest friend ever. Happy birthday, Mom!
10) Thanks mom for always being there in each and every moment and helping me throughout all the hurdles. I am the luckiest person on the earth to have you as a mother. Happy birthday my beautiful Mom!
11) Mother, you are the one who has educated me never give up and overcoming all troubles with smile on face. You have enlightened my life by giving me all the love. Happy Birthday to the best Mom all over the world!
12) Thank you, mom for making my life stronger and happier than ever! You always cared of me, now it's the time for me to care my sweet mother. Best wishes for your birthday!
13) I want to be always with my mom. She is such an awesome human being, amazing person and motivational persona. Mama, without your support, I wouldn't be here. I love my mom. Wishing her a fabulous birthday as much as she is!
14) Happy birthday to my magnificent mom! I wish every person can see what a loving mother you have always been and what you have done to make our life successful. Let's make this day unforgettable.
15) I haven't sufficient words to thank my mother. But, I'm saying this from the bottom of my heart Thank you,mom for guiding and teaching me all the time. I'll Love you always. Happy Birthday to the best mother in this whole universe!
16) It's a birthday of the most amazing mother in this world and I am the happiest one to celebrate her birthday. Mom, I am very thankful to get the most precious gift of my life….having you as my mother.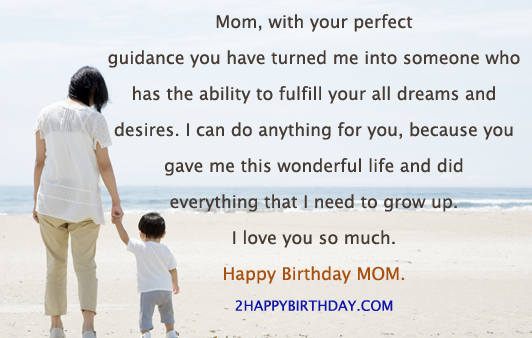 17) There is nothing that can be compared to the love a mother has for her child. Her love is unique, amazing and indivisible. I always find comfort with you, my mother. Wishing you the brightest birthday!
18) You are my motivation. I'm so proud of your son/Daughter. Happy birthday to the beautiful mother in the whole world!
Happy Birthday Mom Wishes Video
19) Today, I know what is right and what is wrong. What to do or what not to do. Thanks mom for letting me know about those all common sense that makes me lead a successful life. Happy birthday to you, mom from your ignorant son/Daughter!
20) Sometimes I have hurt you mother but you have forgiven me all the times. Thanks mother for spreading blossom in life. Enjoy this special day Mom, Happy birthday!
21) On this auspicious day, I would like to wish the most wonderful woman and my best friend, my mother.Happy birthday, mom!
22) I'm so lucky that my mother is my best friend. I can share my thoughts, secrets, problems and all other things with her. Mom, I love you from the deepest core of my heart. Happy birthday lovely Mother!
23) Mom, you have given me not only this life but also taught me the way of living. You are the person I look up to. Have a marvelous birthday mom!
24) All the way through my life, you have always been there for me every time. Thanks mom for every moment that put smille on my face even today. Happy Birthday My beautiful mother!
25) Mom, thanks for the inspirational words that made me to think in a better way and helped my life to live the utmost happiness. I love you mom from the bottom of my heart. Have a Gorgeous Birthday!!
 Find Birthday Wishes For:
Happy Birthday Wishes For Grandma
Happy Birthday Wishes For GrandPa
Happy Birthday Wishes For Daughter
Happy Birthday Wishes For Wife
Happy Birthday Wishes For Godson
Happy Birthday Wishes For Goddaughter
Happy Birthday Wishes For  Sister
Happy Birthday Wishes For Cousin
Happy Birthday Wishes For Nephew
Happy BirthdayWishes For Niece
So how do find these birthday wishes and quotes to wish your moms? If you want to share quotes, you can do it by putting it into the comment box. We'll love to hear you.