As the October month is here, everyone will be enjoying the chilling winds of the North. People who are born in the month of October are supposed to be very special as well as have various characteristics. They can manage with the various situations and are capable enough to adjust as per that.
If you have a friend who is born in the month of October, you can notice they have some specialities. They are very calm and polite in nature. As each and every month have its own birthstone, October has also its own birthstone. Even there are some months that come with multiple birthstones. October has two birthstones: Opal and Tourmaline. So, in this article, we will be discussing October birthstones and jewellery.
Things you need to know about Opal
Opal is one of the most attractive gemstones. This gemstone has the great display of colours along with eye-catchy patterns. Yes, they are unique as well. But have you wondered where they come from? Or how Opal is formed and what are its benefits? Here we will be discussing some of the amazing facts about Opal.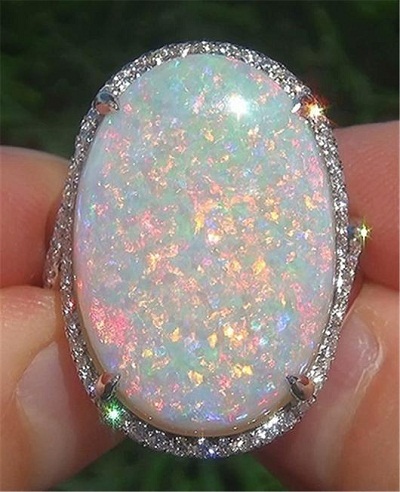 Official Birthstone for October
Yes, Opal is the main birthstone for the October born babies. The stone symbolizes hope as well as purity. Opal is considered as the protective shield as it keeps they wearer away from any kind of harm or obstacles.
Formation of Opal
The beautiful gemstone is formed from the rainwater. This makes the stone precious than other gemstones. Many people even believe that the stone is formed when the rainwater seeps into the rock. One the water is evaporated, the silica present in the water dries out and then hardens. This transforms into a beautiful Opal.
The role of Opal in Australian History
The Australian History describes that Opal is their creator's footprint. They believe that it touched the earth at the base of a rainbow with the purpose of bringing harmony.
Stone for Royals
It is believed that Queen Victoria loved to wear Opal. She also had various other precious gemstones such as Rubies, Sapphires well as Diamonds all over the world. But she was mostly attracted to Opal because of its mesmerising colours.
Beautiful Spectral colours
As we have already mentioned that multiple colours present in the Opal are due to the presence of millions of silica spheres of various sizes. These refract lights which cause mesmerising spectral colours.
Things You need to know about Tourmaline
Tourmaline is a semi-precious gemstone that is formed same as the granite. It has various colour ranges such as green, teal blue, vibrant yellow and black. The name Tourmaline is originated from a Singhalese phrase "tura mali" This phrase means a stone that is mixed with attractive colours. Historically, the stone is known as the magical stone as no two tourmaline stones have the similar colour.
Its unique colour properties
It is such a stone that has unique colour properties. If you held it in various angles, the single stone will reflect multiple colours that are just like a magic.
It's origination
The semi-precious stone is formed from pegmatites. Pegmatites are found in the underground that is filled with hot liquid minerals. As the liquid start cooling, the minerals harden and transform into the crystalline form and hence Tourmaline is produced.
Cleanses and purifies the soul
It is one of the best balancing stone that literally cleanses as well as purifies the soul of the wearer. It is filled with spiritual energy that helps a lot in clearing and balancing the chakras.
Emotional Health
One can use this stone as a decorative object for his or her home and office. This will help him or her to stay focused, clear and balanced aiding in self-esteem and communication.
Jewellery Products made up of Opal &Tourmaline(October Birthstones)
Opal and Tourmaline are also used widely in various jewellery pieces. Following are some of the best products that you can go for.
Alex & Ani Bangle Bar Imitation October Birthstone Bangle Bracelet
The jewellery piece is available in two different colours, I.e., shiny-silver and yellow-gold. The bracelet is handcrafted from recycled materials and is perfect for the festive wear look.
RongXing Jewellery New 925 Sterling Silver White Blue Opal  Earrings
This is a stud earring. The earring is uniquely designed with the composition of four small diamond and a large Opal in the middle. It can go perfectly in wedding, birthday and anniversary look.
Infinity Love God Cross CZ Pendant Necklace with October Birthstone
The jewellery piece is available in 12 different colours. The love God cross CZ pendant necklace is an amazing idea in reminding your love to your important person.
Crystal Birthstone Necklace in a Bottle Pendant for Women and Girls
This is something very unique. This is an adjustable tourmaline crystal bottle pendant that looks very trendy in any of the western outfits. The necklace is dipped in 14-K gold. The jewellery piece is ideal for birthday and anniversary gift.
TISDA "You Are Braver Than You Believe Stronger Than You Seem and Smarter Than You Think" Inspirational October Birthstone Bracelet 
The bracelet itself looks very trendy. It comes in twelve different colours that are made of stainless steel. The bracelet gives every girl a message that she is braver than she believes. If you want to give any inspiration gift in your friend's or sister's birthday then this can be the perfect one.are
So, these are the two October born gemstones. We have tried to cover almost everything. Both the stones are extremely beautiful as well as unique. It is believed that both the stones originated through the rainbow. We hope this article was helpful to you. Let us know your thoughts in the comments section below. We would love to read your comments.