Last Updated on September 27, 2016
Want to wish birthday to your dear ones in minions' style? Minions also known as Despicable me, are the most popular animated movie character. Pierre Coffin and Kyle Balda's character Minion can say happy birthday in a better way. Their banana language seems so hilarious which is amalgamations of words from different languages.
Here we have added Happy Birthday Minions images, memes and Videos that seems funnier when a small, yellow individual wishes you Happy Birthday. Want to view more funny birthday wishes, visit our birthday meme collection
Happy Birthday Minions Images
Wishing you minions more returns..Happy Birthday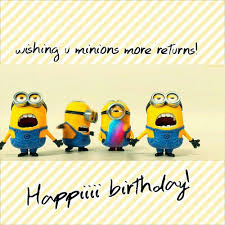 Have A Read:
Your Minions Would Like To Say Happy Birthday!!!
Lieber Herr Roebner Happy Birthday
I have decided I  am not old. I am 25 Plus Shipping and Handling!
Happy Birthday!! You are on in a Minion
Happy Birthday Minions Videos
Watch out the best happy birthday songs by Minions below:
Minions Sing Happy Birthday by David Wall
Happy Birthday with minions By Laura Raileanu
Congratulations – Happy Birthday Minions By Petr Levatr
Minions Banana Language
The basic words used by Minions are :-
Hello – Bello
Thank You –Tank Yu
Cheers – Kampai
For You – Para Tu
Kiss Kiss – Muak Muak Muak
Goodbye – Poopaye
Marriage – La Boda
I Swear – Underwear
I'm Hungry – I Want Banana
We Love You – Tulaliloo Ti Amo
Thanks for stopping by!!!