Last Updated on October 30, 2019
Mother in law is a second mother to us. It's her birthday today and you want some wishes to thank her for what she has done to make you feel good in the family. You are at genuine place.
Here we have crafted true birthday wishes & quotes for her. Find out the best wishes to wish your mother-in-law:-
Top Mother-in-Law Birthday Wishes & Messages
I Wish An Awesome Day To An Amiable Lady Who Is More Like A Mom And Less Like A Mother In Law To Me. Happy Birthday To The World's Greatest Mother In Law!! Be Happy Always & Enjoy Your Day!!
Happy Birthday Mother In Law!! Sometimes Our Relationship Is Sweet, Sometimes It's Sour. Sometimes It Is Delicious, Sometimes It's Bitter. Thanks For All The Moments & Letting Me Know About The True Meaning Of Life. I Wish You A Healthy Life Ahead.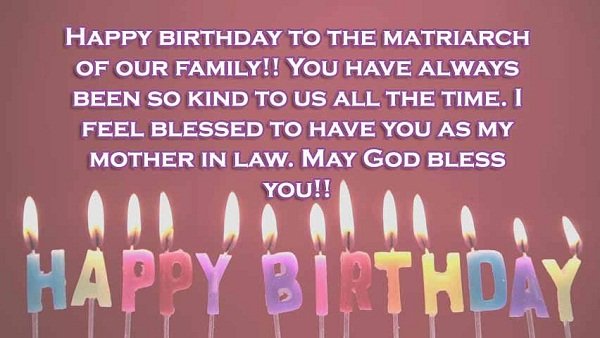 We're So Pleased To Wish You A Very Happy Birthday! Best Wishes To The Most Beautiful Mother In Law In The Whole World!!
A Very Happy Birthday To A Great Lady & A Fabulous Mother In Law! I Wish You Happiness, Peace, And Health On Your Special Day!
Happy Birthday To The Matriarch Of Our Family!! You Have Always Been So Kind To Us All The Time. I Feel Blessed To Have You As My Mother In Law. May God Bless You!
I Have Learned So Much From You & I Can Frankly Say That You Are The Reason For The Happiness Of Our Family. Happy Birthday Mother In Law! Thanks For The All Things You Have Done To Feel Us Happy.
May My Mother In Law Be Blessed With Lots Of Delightful Moments And Tons Of Lovely Wishes On Her Birthday!! I Wish You An Awesome Birthday. Lots Of Love!!
I Am So Fortunate To Get This Opportunity To Celebrate The Birthday Of The Most Graceful Mother In Law In The Whole World. Many Happy Returns Of You Birthday!!
You Are The One I Admire The Most In This World. I Wish You A Jolly Birthday, My Mother In Law.
Image Background Courtesy: Andthemes & Shutterstock
 More Birthday Wishes For:
Happy Birthday Wishes For Grandma
Happy Birthday Wishes For GrandPa
Happy Birthday Wishes For Wife
Happy Birthday Wishes For Daughter
Happy Birthday Wishes For  Sister
Happy Birthday Wishes For Cousin
Happy Birthday Wishes For Nephew
Happy Birthday Wishes For Niece
Happy Birthday Wishes For Godson
Happy Birthday Wishes For Goddaughter