Last Updated on October 30, 2019
If you are looking for genuine birthday wishes for your Muslim friends, then you'll get holy Islamic birthday wishes here. If you want to do something new, it's better to wish them using their religious blessings. Definitely, these birthday wishes give them a reason to smile.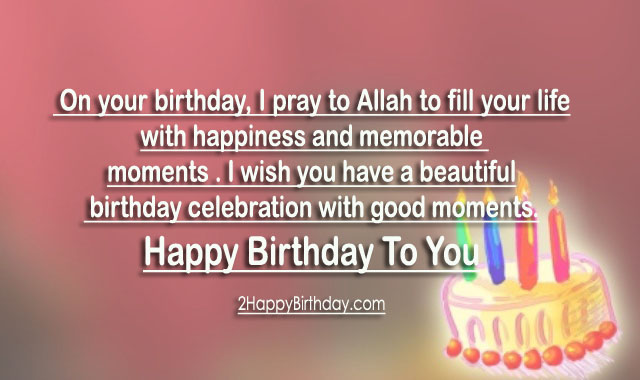 Have a look to beautiful Islamic birthday wishes & image collection:-
Islamic Happy Birthday Wishes For Friends & Family
Another year has come and gone & it's your birthday once again. May Allah bless you with health, wealth, and pleasure! All the best for your future!. Happy birthday!! Stay blessed & have a splendid day,
Image Background Credit: Zem Images
It's very hard to find true love. I am fortunate to have you in my life. I want to thank Allah for sending you in my life & making our bond stronger and happier than ever.  Happy Birthday dear! Have a nice day!
Here comes another birthday gifted to you by Allah. Today is the day when a star was born on the earth. Many happy returns of this day! Have a grand birthday!
With Allah's kindness & elegance, I truly feel privileged to have the best father/mother/wife/husband in the whole world. May Allah bless you a long healthy life. I wish you a sweet happy birthday!!
My dear, Allah loves you very much. That's why he has blessed you with this life. Now you have to make the best out of it. Just set your goal in life & do the good things to achieve it. Have a blessed birthday!
When Allah blessed us with you, we found the reason of my life.. That was to raise you & care for you for every day of your life.  Happy Birthday to you, my son/daughter!!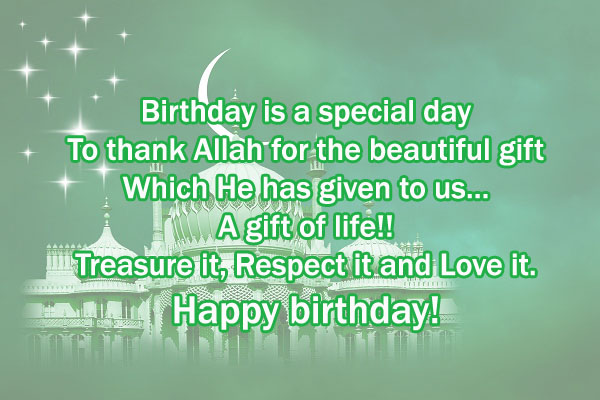 Image Background Source: Wallpaper Cave
There are some happy persons in this world who get caring friend/soul mate like you & I am one of those lucky people. I am thankful to Allah for what He has done for making my life beautiful. Happy Birthday!!
May Allah give you love, happiness, knowledge, good health all through your life. May you get strength & persistence to conquer hurdles in your life!! Best wishes for your special day!!
Another year has passed & by the grace of Allah, I have grown to be with you. You've become such an amazing friend who makes me so proud. Happy Birthday to the best friend!
Let us know about your experiences with these Islamic birthday greetings in comments! Thank you all!!