Last Updated on October 6, 2016
Want to wish a birthday to friends who regularly watch the Game Of Thrones seasons. Here we have got entertaining  Game Of Thrones birthday funny wishes & memes.  Help us to spread these funny birthday memes by hitting share buttons.
Witty Games of Thrones Happy Birthday Images
The Hound Wishes you Happy Birthday (Game of Thrones)
Citation: Meme Generator
Didn't Get Good Game Of Thrones Happy Birthday Meme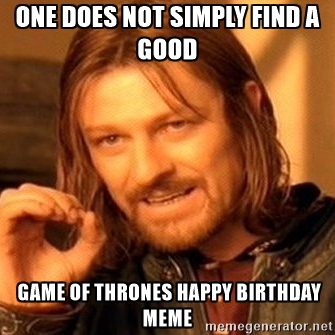 The Dothraki Have No Word For… Happy Birthday
Must Go For Birthday Celebrations…But I Want To Watch Game Of Thrones
Happy Birthday Meme for Sister
  Happy Birthday Meme for Brother 
Happy Birthday Minions Meme & Images
Tyrion Lannister Wants More Wine And W****S On Your Birthday Party..
Jon Snow Wishing Happy Birthday..Still He Knows Nothing..
Citation: Meme Generator