Last Updated on December 6, 2019
The Month of November is here! We have added the different birthstone information for the respective months.  This time, we have added the gemstone information for November.  As we all know, each birthstone depicts some qualities that match with the people born in the respective month.
FAQS
What are the birthstones for November?
For the month of November, There are two gemstones, namely, Topaz and citrine!
What are the Colors of November Birthstones?
Topaz is found in a variety of colours like golden-yellow, orange- type, blue, pink etc.
Citrine is available in yellow, brown and orange colours.
What are the qualities of November Birthstones?
These both gemstones bring serenity, good luck and kindness to the person who wears them.
Here in this article, first we are going to elaborate about basic information related to November birthstones. Then we'll dive into different pieces of jewellery that bring luck to the November born person!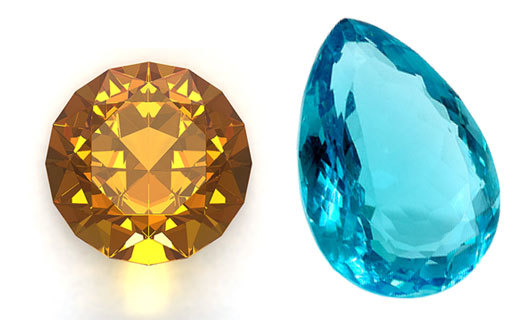 November Birthstone: Topaz & Citrine
Topaz
A long time ago, Topaz name was used for the yellowish gemstones. Many early gem dealers did not recognize that these yellowish stones were actually different materials. Then, about 200 years ago, gem dealers began to realize that these yellowish gems could be topaz, beryl, olivine, quartz, sapphire, or other gems. They also found that topaz comes in a broad range of colours besides yellow.
Topaz is a perfect gem with excellent hardness. It is available in a great quantity with desirable colours making it one of the most fashionable stones. The most precious colours of topaz are golden-yellow orange- type, known as imperial topaz, dark red and orange-red colours. Topaz, available in different colours, is used in jewellery, in rings, earrings, necklaces, pendants and bracelets.
Apart from Imperial topaz, the wide range of topaz comprises of Azotic Topaz, Rutilated Topaz, Sherry Topaz, Mystic Topaz, Silver Topaz, Swiss Blue Topaz, White Topaz and London Blue Topaz.
Citrine
Another gemstone, that is associated with the month of November! It is available in yellow, brown and orange colours. Citrine is a type of translucent yellow quartz that varies in the colours from pale yellow to golden, honey or almost brown. It may comprise a rainbow or glossy appearance. It represents the qualities of confidence, motivation, and self-improvement
There are many optimistic characteristics of citrine stone like it helps in body healing, brings pleasure and positivity. It helps in urine, kidneys and digestive diseases. It has also been said that citrine cleans the body system and can help to neutralize the toxic effects of medicines.
It is thought to be a tonic for the circulatory system, which helps to cleanse blood in the kidneys and other organs. It is also believed to increase the passage of electrical impulses within the nervous system and improve the functionality of the endocrine system. The citrine gives energy and refreshment to the body. It is handy for people vulnerable to the environment and other external influences.
November Birthstone Jewelries
Here we present you some of the best seller jewellery for November born person. If you are planning to gift jewellery to your lover, wife, mother, daughter or sister, here is the list of rings, necklaces you could go for:-
It is a unique birthday gift for the person you love that contains the gemstone of  November with 18K gold-plated brass.
This ring could be a sweet gift for your daughter, niece and little girls. It is a perfect keepsake gift for the baby which comes with a beautiful gift box. It is available at a reasonable price that will doubtlessly delight any little girl. Ring size varies from 1 to 5.
This necklace is made of stainless steel with a cool inspirational message.  If you are looking to gift your friends or dear ones, this necklace will do its work.  You will get it in a branded LParkin Jewelry gift box that is Ready for giving a gift.
This gorgeous necklace is a good birthday gift for a person whom you love and care. It also represents spirituality and faith in the almighty. You will get it wrapped and placed in a superbly designed pink jewellery box.
This Bracelet is available in a unique expandable design adorned with a faceted birthstone and three stamped charms. we hope it will surely meet your expectations.
So this is the all information about the November birthstones and pieces of jewellery. If you like this information, please share it with your friends and social circles.